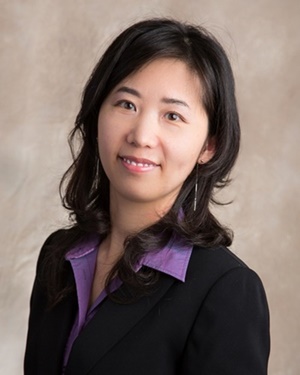 Michelle M. Guo, DDS, MS​
Dr. Guo earned her Doctorate of Dental Surgery from the University of California San Francisco (UCSF) School of Dentistry and her DDS equivalent from Peking University School of Dentistry. She became a dentist in 1996 and has been practicing in Southwest Michigan since 2010. She is also an Adjunct Clinical Assistant Professor at the Department of Periodontics & Oral Medicine, University of Michigan School of Dentistry. Her dental training from both top-ranking schools and her experience treating many advanced dental diseases enable her to provide patients with comprehensive dental care. In addition, she spends hundreds of hours each year attending dental meetings in order to stay up-to-date on the latest advancements in dentistry and to provide the best treatment options for patients.

Among the services that Dr. Guo provides are cosmetic fillings and veneers, crowns and bridges, inlays and onlays, dental implant surgeries and restorations, gum therapy, root canal therapy, atraumatic extractions, minor oral surgeries, dentures, pediatric dentistry, laser dentistry, dental sleep medicine, and orthodontics with braces and invisible aligners.

Dr. Guo is an active member of the American Dental Association, the Michigan Dental Association, the American Orthodontic Society, the American Dental Implant Association, the Detroit Dental Clinic Club, and the Advanced Periodontics and Dental Implantology Study Club. She is also a lifetime member of the United States Dental Institute, an Associate Fellow of the World Clinic Laser Institute, a Senior Award-winning member of the Academy of General Dentistry, and one of America's Top Dentists as chosen by the Consumers' Research Council of America.

Dr. Guo recognizes that every patient is a unique individual who has placed a great deal of trust in her and her team. She believes that each and every patient should be treated like family. This is just one reason that she often calls the little ones in her dental chair Precious, her daughter's nickname. In her spare time, Dr. Guo enjoys reading, spending time outdoors with her puppy, and traveling with her husband and daughter.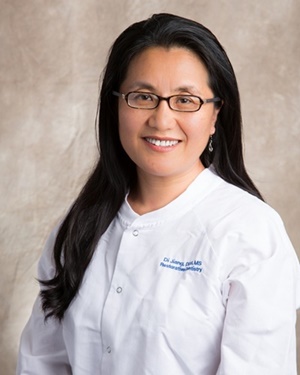 Di Jiang, DDS, MS​
Dr. Di Jiang received her dental degree and Master's degree from China Medical University in 1987 and 1993 respectively. After graduation, she practiced and taught dentistry at Dalian Medical University for almost nine years in total. She then came to the State University of New York at Buffalo, School of Dental Medicine, and completed a two-year master's program in Oral Medicine in 1998. She was awarded the Mark Diamond Fund and the American College of Prosthodontists / Procter & Gamble Research Fellowship in Complete Denture Prosthodontics during her graduate study in Buffalo. She then moved to Michigan, where she worked as a researcher in the Department of Periodontics and Oral Medicine at the University of Michigan School of Dentistry for several years and then attended her residency program at the Department of Cardiology, Restorative Science, and Endodontics. She completed a three-year Master's program in Restorative Dentistry in 2008. Dr. Jiang serves as an Adjunct Faculty member at the University of Michigan School of Dentistry and as a clinical lecturer and clinical instructor. She also practices dentistry in private dental offices.

Dr. Jiang is a member of the American Dental Association and Michigan Dental Association. As a general dentist, her career has mostly focused on preventive dentistry, cosmetic dentistry, and endodontics. She is very well trained and experienced in cosmetic dentistry. She believes strongly in educating patients about healthy lifestyles and disease prevention.

Dr. Jiang is a mother of two children. She spends most of her leisure time with her family and enjoys cooking, outdoor activities, and travel.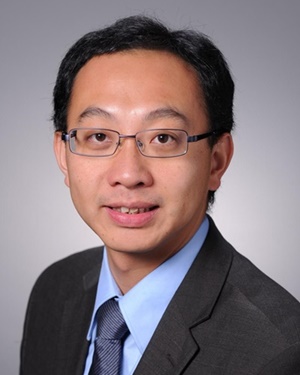 Hsun-Liang Chan, DDS, MS​
Dr. Chan finished periodontal specialty training with a prestigious award, the Sigurd P. Ramfjord Award for Excellence in Graduate Periodontics, at the University of Michigan in 2011. Since graduation, he has been teaching as a full-time clinical faculty at the University of Michigan. He teaches topics related to gum disease and implant therapy to pre-doctoral students and graduate periodontal residents in clinics and in the classroom. He also conducts clinical research focusing on minimally invasive periodontal and implant surgeries using advanced imaging, e.g. 3D dental CAT scans, and digital treatment planning. He received several other awards from the nation's authority in periodontics, the American Academy of Periodontology (AAP), including: Fellowship to the Institute for Teaching & Learning (2011), Abram and Sylvia Chasens Teaching and Research Fellowship (2011), Nevins Teaching and Clinical Research Fellowship, the AAP foundation (2013), and Outstanding Teaching and Mentoring in Periodontics (2015). He is also listed as a finalist of the Richard J. Lazzara Fellowship in Advanced Implant Surgery (2011). He serves as a committee member in different capacities in major periodontal and dental implant organizations, e.g. AAP, Academy of Osseointegration, Midwest Society of Periodontology, and Michigan Periodontal Association, etc. He has published more than 100 peer-reviewed articles and conference abstracts/presentations related to periodontics and implant therapy. His expertise is in conventional periodontal surgeries, esthetic root coverage procedures, immediate implant placement, jawbone regeneration, and sinus augmentation.

He currently lives in Ann Arbor with his wife and daughter. He likes to run and swim; in fact, he just completed a half-marathon (Dexter-Ann Arbor run) in 2017. He also likes to camp and travel around Michigan during summertime with family and snow skiing in the winter.

We appreciate the time you've taken to visit this site and hope it helps you find out more about this dental practice and the many services we can provide to help you achieve optimum oral health.