Dental implants are teeth-replacing options in which permanent anchors are placed beneath the jawbone that gives a stable base for a long-lasting tooth replacement. The customized crowns are then embedded in the implants. The dental implants look and feel just like your natural teeth as they also become part of the jaw. They won't move or slip around, so you don't have to worry about them while eating or talking.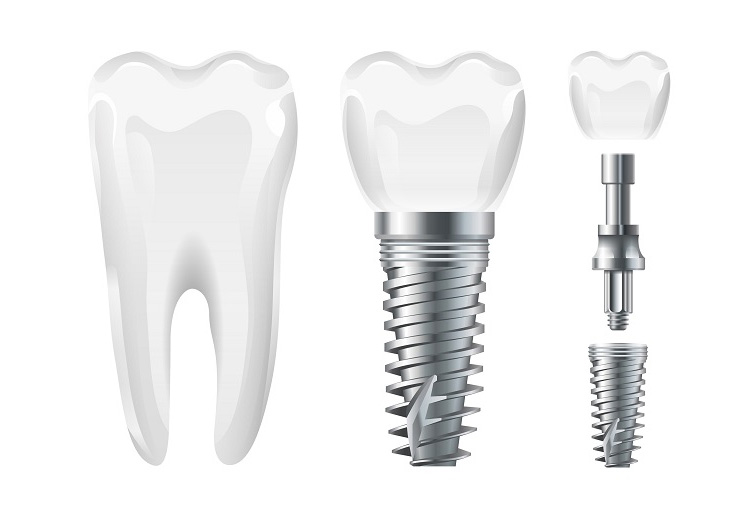 How is a dental implant placed?
Getting dental implants also depends on the health of the jawbone. There are two phases for dental implants. In the first phase, i.e., the surgical phase, an artificial root made of titanium is surgically placed in the jawbone. In a process called "osseointegration," the post fuses with the bone and acts as the root of the missing tooth. But, if your jaw doesn't have sufficient bone to support the implant, a bone graft will be used as a supplement. 
During the next phase or restorative phase, the implant abutment is placed on the implant. A customized implant crown is created in a dental lab, with all the apt measurements and data collected using the 3D scan. Then it is placed on the abutment, and all necessary adjustments are made.
What are the advantages of dental implants? 
It helps in improving your confidence.
You will get stability while eating.
It helps in preserving your bone and gum. 
You will be able to maintain dental hygiene.
Your surrounding teeth won't be affected by the treatment.
You can eat all your favorite food.
They are convenient and don't even require any special adhesives to keep them in place.
How do you need to care for dental implants?
Dental implants have a very high success rate. Caring for your newly restored teeth is essential. You have to maintain them just like your natural teeth because the better you care, the longer it will last, even up to a lifetime. You will have to:
Brush and floss at least twice a day.
Rinse your mouth with an antibacterial mouthwash.
Visit your dentist for a regular dental check-up.
To know more, call us or schedule an appointment with our experienced dentists today. We'll be happy to guide you further.