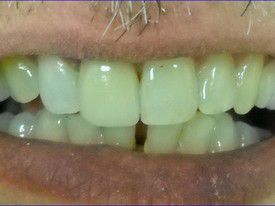 Patient had a discolored asymptomatic front tooth for years. Our tests revealed a non-vital tooth with necrotic pulp(nerve) tissue and chronic bone infection in the root tip area. Root canal and porcelain crown were then performed.
Patient Photos Depicting:
Note: Patients depicted in photos have provided their consent to display their pictures online. Results may vary.